Symposia Archive
3rd Annual Symposium, 2003
2nd Annual Symposium, 2002
1st Annual Symposium, 2001
15th Annual Symposium 2015
"Edward Heron-Allen: Research in Egypt, La Rochelle and Sussex"
11.00am
Saturday, 27th June, 2015
The Minerology Seminar Room,
The Natural History Museum,
Cromwell Road,
London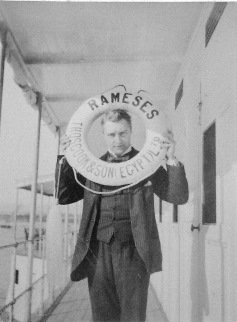 Edward Heron-Allen on board Rameses in Egypt
Details
The Minerology Seminar Room is in the basement of the Natural History Museum. To reach the Seminar Room please enter the Museum via the Geological Museum Entrance in Exhibition Road, NOT the Main Entrance in Cromwell Road.
Will those wishing to attend the Symposium please contact the Honorary Secretary, Juliet Field, at 40 Portland Road, Oxford. OX2 7EY, Tel: 01865 552640.
Those wishing to join us for lunch at Pierino's Italian restaurant, 37 Thurlow Place, London SW7 2HP, should inform the Honorary Secretary by 13 June.
Programme
11.00 Welcome and Introduction by the Chairman
Graham Saxby-Soffe, 'Roman sculpture in the Kingdom of Togidubnus: Edward Heron-Allen's Contribution'
David Bone, 'Quarrying the Mixon: Heron-Allen's mystery resolved'
John P. Mahoney, 'The 1903 Egyptian rebirth of the Necromancer, Edward Heron-Allen'
A Visit to the Heron-Allen Library where the bones from the Selsey Mammoth will be on display, and Simon Parfitt will talk about them
John Whittaker, 'In the Steps of Alcide d'Orbigny: Heron-Allen's visit to La Rochelle, from his Holiday Journal of 1914'
Timothy McCann, 'Edward Heron-Allen and Sir Arthur Smith Woodward'
The Annual General Meeting
Lunch at Pierino's
AGM Agenda
Chairman: Tim McCann
Apologies for Absence
Minutes of Meeting on 28 June 2014
Matters arising
Election of Officers and Committee
Chairman's Report
Presentation of Accounts by the Treasurer
Reports:

Web-Site
Newsletter and Future Opuscula
2016 Symposium

Any Other Business [notified in advance to the Secretary]
Date of next meeting [Saturday 25 June 2016]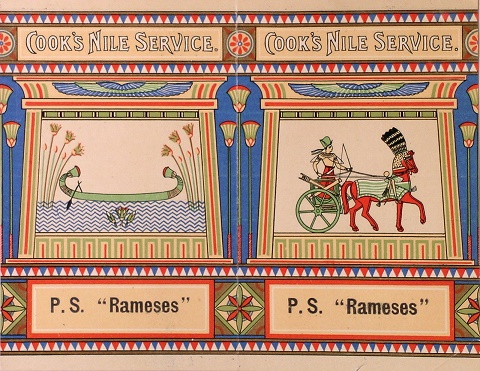 Brochure for P.S. Rameses