Symposia Archive
3rd Annual Symposium, 2003
2nd Annual Symposium, 2002
1st Annual Symposium, 2001
8th Annual Symposium 2008
"Treasures: Decorative, Egyptian and Musical: More from Heron-Allen's Collections"
11.00am
Saturday, 5th July, 2008
Natural History Museum
Palaeontology Demonstration Room
(The Dorothea Bate Room)
and Heron-Allen Library
Cromwell Road
London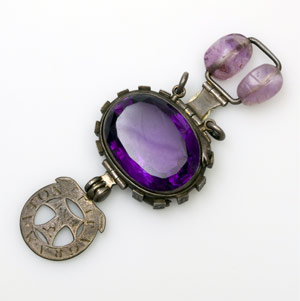 Edward Heron-Allen's "Purple Sapphire"
Details
Meet at the Visitors Reception, on the left, inside the main entrance to the Museum on Cromwell Road. The nearest
Underground Station is South Kensington.
Lunch has been arranged at Pierino's Italian Restaurant in Thurlow Place near to the Museum. Those wishing to attend
the lunch should book with Dr John Whittaker at the Natural History Museum.
During the day we hope to visit Heron-Allen's Room at the Museum (The Gavin de Beer Room), and "The Purple Sapphire"
in The Vault.
Programme
10.30 Tea and Coffee
11.00 Welcome and Introduction by the Chairman
Lucy Wood, "Heron-Allen's Westminster Fire Office Chairs"
Pam Thompson, "A Cornucopia of Treasures and Trivia: Heron-Allen's Miscellanea in the Royal College of Music


collection"

Joann Fletcher, "The Heron-Allen Collection of Egyptian Scarabs"
Lunch at Pierino's Italian Restaurant
The Annual General Meeting
Peter Scott, "Tea at the De Keyser Hotel - Edward Heron-Allen's Colleagues at M.I.7(b)"
AGM Agenda
Chairman: Tim McCann
Apologies
Minutes of Meeting on 7th July 2007
Matters arising
Re-election of Officers and Committee
Chairman's Report
Presentation of Accounts by the Treasurer
Reports:

Web-Site by Andy Henderson
Newsletter by Tim McCann
2009 Symposium by Tim McCann

Any Other Business
Date of next meeting