Symposia Archive
3rd Annual Symposium, 2003
2nd Annual Symposium, 2002
1st Annual Symposium, 2001
9th Annual Symposium 2009
"Edward Heron-Allen and Literature"
11.00am
Saturday, 4th July, 2009
Natural History Museum
Palaeontology Demonstration Room
(The Dorothea Bate Room)
Cromwell Road
London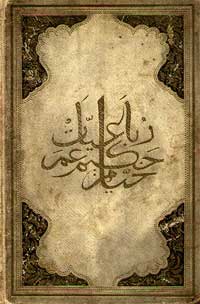 The first edition of EHA's translation of the Rubaiyat
Details
Meet at the Visitors Reception, on the left, inside the main entrance to the Museum on Cromwell Road. The nearest
Underground Station is South Kensington.
Lunch has been arranged at Pierino's Italian Restaurant in Thurlow Place near to the Museum. Those wishing to attend
the lunch should book with Dr John Whittaker at the Natural History Museum.
Programme
10.30 Tea and Coffee
11.00 Welcome and Introduction by the Chairman
Timothy J. McCann, "Edward Heron-Allen's Ballad of Lord Bateman"
Joan Navarre, "'Chicago Palmistry': Eugene Field's Portrait of Edward Heron-Allen in America"
Garry Garrard, "EH-A - accomplice to fraud: The legacy of EHA's work on the Rubaiyat of Omar Khayyam"
John Whittaker, "Edward Heron-Allen's Travel Journal account of his trip to the International Zoological Congress


in Monaco in 1913"

Lunch at Pierino's Italian Restaurant
The Annual General Meeting
AGM Agenda
Chairman: Tim McCann
TBA