Symposia Archive
3rd Annual Symposium, 2003
2nd Annual Symposium, 2002
1st Annual Symposium, 2001
10th Annual Symposium 2010
"Edward Heron-Allen, Archaeology and Local History"
11.00am
Saturday, 3rd July, 2010
West Sussex Record Office
Chichester, West Sussex
PO19 1RN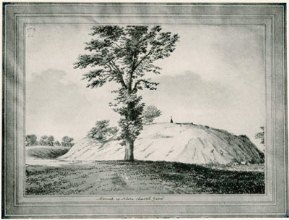 The Mound at Church Norton in Selsey
Details
Transport Details and map
There are direct trains to Chichester from Victoria Station in London, from Gatwick Airport and from Portsmouth
and Brighton. The Record Office is opposite the Westgate roundabout and is ten minutes walk from Chichester Station.
There is parking behind the Record Office building.
Programme
10.30 Tea and Coffee
11.00 Welcome and Introduction by the Chairman
David Bone, 'Edward Heron-Allen and the Geology of Selsey'
Martin Bates, 'The Selsey area - climate and sea-level change over the last 500,000 years'
Timothy J. McCann, 'Edward Heron-Allen and 'The Mound' at Selsey, 1911'
Lunch
The Annual General Meeting
John P. Mahoney and Barbara P. Mahoney, 'Preamble to the Le Gallienne vs. Heron-Allen 'Incident':


Part II: The Clouds of Discontent at the Sette of Odd Volumes, 1889-1890'

Lunch has been arranged at No.12 Wine bar and restaurant, Westgate, Chichester. A menu will be enclosed with


the Spring Newsletter (No.16). Those wishing to lunch with the Society should chose one item for each course
and book with our Honorary Secretary Juliet Field.
AGM Agenda
Chairman: Tim McCann
TBA