Symposia Archive
3rd Annual Symposium, 2003
2nd Annual Symposium, 2002
1st Annual Symposium, 2001
12th Annual Symposium 2012
"Edward Heron-Allen and some Women of his Acquaintance"
10.00am
Saturday, 30th June, 2012
Allen Room,
Dean Street,
London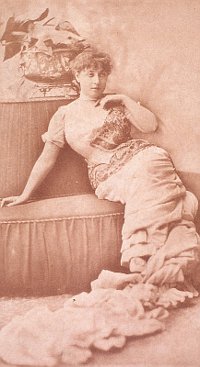 Selina Dolaro
Details
The Allen Room is on the first floor of the building next door to St. Anne's Church and is best reached from Dean Street.
Dean Street is off Shaftsbury Avenue, and the nearest underground station is at Leicester Square. It is also in easy walking
distance of Piccadilly Circus and Tottenham Court Road. If approached from Shaftsbury Avenue, The Allen Room is to be
found a few yards down Dean Street on the left hand side. There is an inscription to Edward Heron-Allen on the wall of
the building.
The Allen Room forms the principal room in the house which was built in 1910 on the site of the old Parish Watch House,
engine house and mortuary. As built, the house provided accommodation for two curates on the second and third floors,
a boys club and gymnasium in the basement, a parish meeting hall on the ground floor, and on the first floor
accommodation at the rear for the verger and his wife and the Allen Room, as a choir vestry and club.
It was named the Allen Room to celebrate the Allen Family and their local law firm, Allen and Sons. For four generations
and a span of 150 years successive members of the family served as Vestry Clerks for the parish of St. Anne's and played a
significant part in local affairs. The windows celebrating successive members of the Allen Family were provided by
Mr. Churchwarden Curtis and were made locally by his company, Ward & Hughes, stained glass makers of 67 Frith Street.
The opaque glass replaces panels blown out by the force of the explosion which occurred when St. Anne's Church was
destroyed by a bomb on the night of 24 September 1940.
The Allen Room was used as a vestry and club for the gentlemen of the choir until the 1930s. After the war the St. Anne's
Society - an attempt to form a bridge between the literary world and the church - met in the Room. In the 1960s it was used
as place of worship for the parish and continued in use until the newly rebuilt church was consecrated next door on
26 July 1991. The Heron-Allen Society held their third and fifth symposiums here in 2003 and 2005.
Programme
10.15 Coffee
10.30 Welcome and Introduction by the Chairman
Timothy J. McCann, 'Nocturns, Novels and Necromancy: Blanche Roosevelt, Edmund Downey and


Edward Heron-Allen'

John P. and Barbara P. Mahoney, 'The Queen of Bohemia and the Poems and Passions of the Boy, Omar.


Selina Dolaro's and Edward Heron-Allen's "Mes Amours"

Ivor E. Jones, '"NOUR I MAH - The Lady of Light"'
Jan Bargman and John E. Whittaker, 'Helene Bargmann - "The Last Lady"'
The Annual General Meeting
Lunch at Il Siciliano Italian Restaurant, 33 Dean Street, Soho
AGM Agenda
Chairman: Tim McCann
Apologies
Minutes of Meeting on 25 June 2011
Matters arising
Election of Officers and Committee
Chairman's Report
Presentation of Accounts by the Treasurer
Reports:

Web-Site
Newsletter and Future Opuscula
2013 Symposium

Any Other Business
Date of next meeting [Saturday 29 June 2013]