Symposia Archive
3rd Annual Symposium, 2003
2nd Annual Symposium, 2002
1st Annual Symposium, 2001
7th Annual Symposium 2007
"The Heron-Allens and Oxford"
11.00am
Saturday, 7th July, 2007
Lady Margaret Hall
Talbot Hall
Norham Gardens, Oxford
OX2 6QA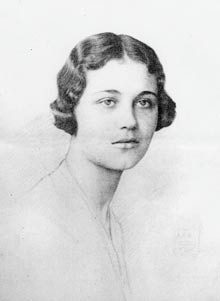 Portrait of Amorel Heron-Allen from Lady Margaret Hall
Details
Lady Margaret Hall (Tel: 01865 274300) is immediately north of the Oxford Parks. From whichever direction you are
coming to Oxford, it is best to reach LMH from the northern end of the Oxford Ring Road; the city centre is difficult to
navigate unless you already know exactly where you are going. Detailed directions can be found on the LMH website.
Limited parking is available at a fee of £20 for the duration of the Symposium, please contact the Chairman.
Those travelling by train are strongly advised to take a taxi to the college. It is a very long walk. Numbers and car
registrations are required 7 days prior to the start of the Symposium and drivers are asked to report to the Porter's Lodge
on arrival so that they can be advised where to park. The college is able to provide overnight accommodation either for
the night before or the night after the Symposium, or both. Coffee and a finger buffet will be provided at the Symposium.
It is important that all those wishing to attend inform the Secretary before 23 June.
Programme
10.30 Tea and Coffee
11.00 Welcome and Introduction by the Chairman
Alathea Pitt, "Edward Heron-Allen and the Heron-Allen Scholarships at Lady Margaret Hall"
Ivor Jones, "Armorel Daphne Heron-Allen: The Early Years"
Joan Navarre, "'Woman of the World': Armorel Heron-Allen and Lady Longford at Oxford"
Lunch
The Annual General Meeting
Timothy J. McCann, "'Men of Prevision': Edward Heron-Allen, John Johnson and the John Johnson Collection of


Printed Ephemera at the Bodleian Library, Oxford"
AGM Agenda
Chairman: Tim McCann
Apologies
Minutes of Meeting on 1 July 2006
Matters arising
Re-election of Officers and Committee
Chairman's Report
Presentation of Accounts by the Treasurer
Reports:

Web-Site by Andy Henderson
Newsletter by Tim McCann
2008 Symposium by John Whittaker

Any Other Business
Date of next meeting