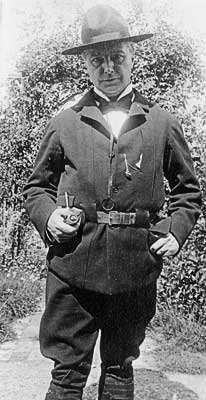 Edward Heron-Allen in his all-black
scout uniform, c. 1915
Membership enquiries should be addressed to the
Secretary:
Juliet Field,
jools.field@btinternet.com
40 Portland Road
Oxford
OX2 7EY
Copies of the Newsletter can be obtained from the
Chairman:
Timothy McCann,
timothy.j.mccann67@gmail.com
18 Oaklands Road
Havant, Hants
PO9 2RN
Queries about Paypal payments
should be addressed to the
Treasurer:
Pam Thompson,
pthomp1059@aol.com
Membership of The Heron-Allen Society
Members pay a fee (a minimum of £20) on joining. Thereafter, annual subscription fees are £20 for individual members and £25 for institutional members.
Overseas members pay £25 for individual members and £30 for institutional members.
Members are entitled to:
Newsletter
Opusculum
Information about the annual Symposium
Information about the Society's activities
Any Society publication will normally be paid for separately.
The Society can accept payment for subscriptions by Paypal. When you send money via Paypal, the e-mail address you need to quote is: heronallensoc@aol.com. Please ensure that you add details of the purpose of the payment.
Members are reminded that prompt payment of subscriptions enables the Society to continue to publish its Newsletters and Opuscula.