Symposia Archive
3rd Annual Symposium, 2003
2nd Annual Symposium, 2002
1st Annual Symposium, 2001
11th Annual Symposium 2011
"Edward Heron-Allen and Music"
10.15am
Saturday, 25th June, 2011
Donaldson Room,
Royal College of Music,
Prince Consort Road
London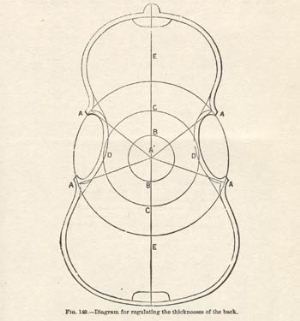 Diagram from "Violin-Making, as it was and is"
by Edward Heron-Allen
Details
Coffee will be available from 10.15am.
For the Royal College of Music take the Underground to South Kensington, or a Bus (Nos 9, 10 or 52) to the Albert Hall.
If you would like to attend the Symposium please inform the Honorary Secretary Juliet Field at 40 Portland Road,
Oxford OX2 7EY, by 11 June, stating in addition whether or not you wish to join us for lunch.
Those attending the Symposium will be required to give their names at the entrance to the Royal College of Music
and to sign for a Visitor's Pass. The Donaldson Room will be found downstairs in the College Library.
Programme
10.15am Tea and Coffee
10.45 Welcome and Introduction by the Chairman
'Edward Heron-Allen's visit to Downside to see the Music Library' by Timothy J. McCann
'Edward Heron-Allen as a Music Critic', by Peter Horton
'Edward Heron-Allen and his Family', by Bill Coleby

Short interval

Benjamin Norris will play some pieces on Edward Heron-Allen's Guarneri Violin
"The Resurrection of the Edward Heron-Allen Violin No. 2 Modeled after the Joseph Guarnerius Del Gesu 1734,


Ex-Sainton", by John and Barbara Mahoney, with Andrew Dipper

The Annual General Meeting
Lunch at Pierinos Italian Restaurant, 37, Thurloe Place, SW7

[There will be an exhibition of some of the treasures from the Heron-Allen collection at the Royal College.
By kind permission of John and Barbara Mahoney we are able to see one of the two violins made by Heron-Allen
and to hear it being played.]
AGM Agenda
Chairman: Tim McCann
TBA