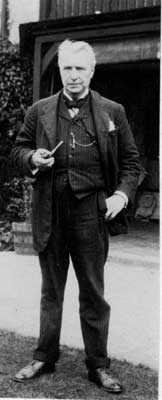 Edward Heron-Allen, c. 1920
Symposia Archive
3rd Annual Symposium, 2003
2nd Annual Symposium, 2002
1st Annual Symposium, 2001
Symposia
The Society holds an annual symposium at venues such as the Natural History Museum, the Royal College of Music or the Allen Room, St. Anne's Soho, in London; Lady Margaret Hall in Oxford and the West Sussex Record Office at Chichester.
It meets occasionally for one-off events such as the unveiling of a plaque to Edward Heron-Allen in Selsey, the Day Conference on the Clare Island Survey in Dublin in October 2009 and the recent centenary visit to Clare Island in August 2011.
Many of the talks are published by the Society in the Opuscula.