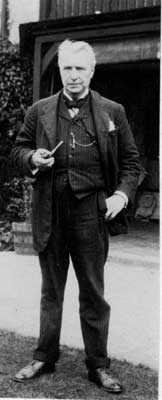 Edward Heron-Allen, c. 1920
Symposia Archive
3rd Annual Symposium, 2003
2nd Annual Symposium, 2002
1st Annual Symposium, 2001
Symposia
The Society holds an annual symposium at venues such as the Natural History Museum, the Royal College of Music or the Allen Room, St. Anne's Soho, in London; Lady Margaret Hall in Oxford and the West Sussex Record Office at Chichester.
It meets occasionally for one-off events such as the unveiling of a plaque to Edward Heron-Allen in Selsey, the Day Conference on the Clare Island Survey in Dublin in October 2009 and the recent centenary visit to Clare Island in August 2011.
Many of the talks are published by the Society in the Opuscula.
International Symposia
Following our highly successful international symposium at the Royal Irish Academy in Dublin in 2009, we decided to arrange an annual holiday in a location especially associated with the life and work of Edward Heron-Allen.
The intention was to increase our knowledge of Heron-Allen, to travel to interesting locations, to enjoy a holiday and to get to know our fellow members rather better.
Making use of his detailed holiday diaries, which are now deposited in the West Sussex Record Office at Chichester, we have arranged the following symposia:
Clare Island, Ireland, 2011
Ajaccio and Bastia, Corsica, 2013
Venice and Verona, Italy, 2014
Modena, Bologna and Ravenna, Italy, 2015
La Rochelle, France, 2016
Pisa and Florence, Italy, 2017
Mulranny, Inishbofin and Galway, Ireland, 2018
Biarritz and Pau, France, 2019