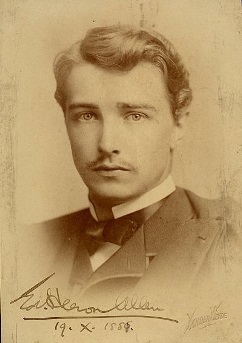 Edward Heron-Allen 1886
News and Events 2018
February
The Society's Opusculum No. XXIV entitled 'Edward Heron-Allen: Beginnings and Endings', edited by Timothy J. McCann and John E. Whittaker, was published and distributed. The Opusculum included articles by David Thompson on 'Edward Heron-Allen. A further brief Genealogy'; John P. Mahoney and Barbara P. Mahoney and Antonella Maraini on 'The Mrs. E.C. Buckley – Sir Coleridge Kennard Affair and Solicitor Edward Heron-Allen'; Timothy J. McCann on 'Edward Heron-Allen and Captain A.W.F. Fuller' and Roger Cline on 'Collecting Heron-Allen'.
March
The annual Heron-Allen lecture takes place in the Simpkins Lee Theatre at Lady Margaret Hall, Oxford on Friday 2nd March 2018, 5.45pm to 7.00pm. The guest speaker will be wildlife biologist Professor John Vucetich from the School of Forest Resources and Environmental Science, Michigan Technological University, Houghton, USA. The event is free of charge and guests are welcome. A drinks reception will follow in the Monson Room. Places can be booked online via Eventbrite.
July
7 July. The Society's 18th Annual Symposium will be held in the Woolstapler Room at the Novium in Chichester on Saturday 7 July starting at 11.00, followed by a late lunch at The Crate and Apple, Westgate, Chichester. Among the talks will be John and Barbara Mahoney, 'The Cult of Harrow and The Suicide of Sylvester Gray. The Servant Edward Heron-Allen'; Joan Navarre, 'A Prince among Friends. Exploring the Life and Times of Gabrielle Enthoven'; David Bone, 'Heron-Allen and the Ice Age Boulders of Selsey'; Tim McCann, 'Edward Heron-Allen and his Silver Spoons' and David Thompson, 'The Large Acres inscribed Treasure Chest'. Lunch has been booked at the Crate and Apple, Westgate, Chichester. To book please e-mail our Honorary Secretary, Juliet Field at jools.field@btinternet.com by 23 June. Lunch reservations must be made before then.
September
Members of the Society travelled to Achill Island, Inishbofin and Galway in Ireland for the 8th International Symposium, 23-30 September, following in the footsteps of Edward Heron-Allen's visits in 1911 and staying in the same hotel at Mulranny.
October
The Society's Newsletter no.33 (Autumn 2018) was published. Articles include 'The Eighteenth Annual Heron-Allen Symposium at the Novium in Chichester' by Peter Horton; 'Edward Henry Winfield and Edward Heron-Allen' by Bob Forrest and 'Edward Heron-Allen's Commonplace Book, 1883-1889. A Literary Darwinian Relic to his Miscellanea' by John P. Mahoney and Barbara P. Mahoney.