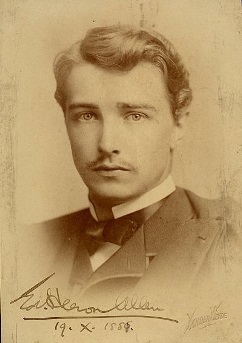 Edward Heron-Allen 1886
News and Events 2019
March
The Annual Heron-Allen Lecture will be held on Friday 8th March at 5:45pm in the Simpkins Lee Theatre, Lady Margaret Hall, Oxford. The Lecture will be delivered by Professor David Western, senior conservationist with the Wildlife Conservation Society and chairman of the African Conservation Centre. His talk is entitled 'The changing nature of conservation in a humanized world'. A drinks reception will follow the lecture, for all those registered for the lecture.
For more information and booking, please visit: https://tinyurl.com/HeronAllenLecture2019
July
6 July. The Society's 19th Annual Symposium will be held at St. Peter's Church Hall, Selsey on Saturday 6 July starting at 11.00, The theme is 'Large Acres and beyond'.The programme will include David Bone, 'Heron-Allen's fossil collection in Chichester District Museum'; John Mahoney, Barbara Mahoney and Peter Kluzak, 'NOUR-KHANA' The history of a family get-away. A Creation of Edward and Edith Heron-Allen in a field called 'LARGE ACRES' at Selsey in Sussex'; Timothy J. McCann, 'Edward Heron-Allen and Pope Leo XIII' and David Thompson, 'The Large Acres Sun-dial', and be followed by a late lunch at the Seal Hotel, Selsey. To book for the Symposium please e-mail our Honorary Secretary, Juliet Field at jools.field@btinternet.com by 21 June. Lunch reservations must be made before then as we have to order food in advance.