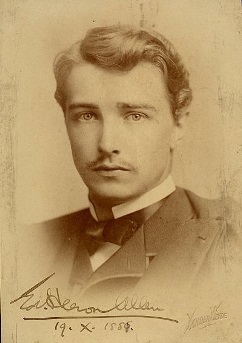 Edward Heron-Allen 1886
News and Events 2020
January
The newly formed Tallahassee Sette of Odd Volumes published as their Opusculum no, III Timothy J. McCann and John P. Mahoney's "A Brief Biography of Author and Polymath, Edward Heron-Allen, 1861-1943" (2020).
March
The Annual Heron-Allen Lecture which will be held on Friday 13th March at 5:45pm in the Simpkins Lee Theatre, Lady Margaret Hall, Oxford. The Lecture will be delivered by Professor Phyllis Lee, Professor at the University of Stirling and Director of the Ambosoli Trust for Elephants. Her talk is entitled 'Models of Social Evolution'. A drinks reception will follow the lecture, for all those registered for the lecture in the Monson Room.
July
The Society's 20th Annual Symposium will be held at venue to be announced on Saturday 6th July starting at 11.00.