The Selsey Feet
Chichester District Museum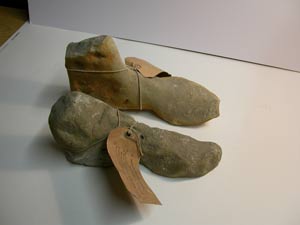 The Selsey Feet
Chichester District Museum is celebrating its 40th anniversary this year. In celebration the Museum put on a temporary exhibition about its collection entitled "A Better Mousetrap and the Selsey Feet". The "better mousetrap" is another story but the "Selsey Feet" originally belonged to Heron-Allen before ending up here in the Museum. These stone effigies that look like feet were reputedly found off the coast in Selsey and were taken to Heron-Allen. We think then that they became part of his collection. Until recently they were labelled as the feet from a statue or rude from the Anglo-Saxon cathedral at Church Norton. However, the general consensus now is that they are a natural phenomena and a fluke of nature.
Heron-Allen also featured in the exhibition as one of the collectors who had contributed to the Museum's collections. Some of his collection of local fossils and prehistoric tools from Selsey formed part of the early collection of the Museum, along with a collection of polished stones and a collecting cabinet filled with specimens of minerals that may have belonged to him. There are also volcanic glass tools from Mexico and Native American arrowheads. We don't know how they entered the collection but they now make a valuable contribution and are used in our educational work with schools. Mr and Mrs Marriner also kindly lent us lantern slides taken by Heron-Allen for display.
As an interesting local character, and an example of a fanatical collector, he formed a large section of the exhibition. The exhibition was visited by many local people and visitors from further afield, and the Selsey feet were chosen by some children as their favourite object in the Museum.
I am indebted to Tim McCann who provided photographs and a copy of a picture of Heron-Allen for display and also helped with the research for this section of the exhibition.
Jane Seddon (Chichester District Museum)