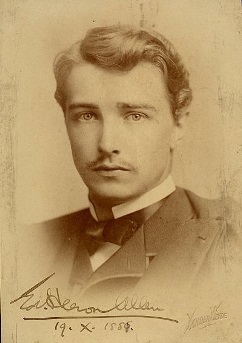 Edward Heron-Allen 1886
News and Events 2017
March
The annual Heron-Allen Lecture will be held at Lady Margaret Hall, Oxford, on Friday 3 March 2017, at 5.45pm to 7.15pm, in the Simpkins Lee Theatre. The speaker will be Rory Stewart OBE MP. He was appointed Minister of State at the Department for International Development on 17 July 2016, and was elected the Conservative MP for Penrith and The Border in May 2010. The title of his lecture is 'Conservation, Development: Rhetoric and Reality'. To book, please go to: https://heron-allen-lecture-2017.eventbrite.co.uk
The Society's Newsletter no. 30 (Spring 2017) was published and distributed. The issue contained the programme for the society's 17th Annual Symposium at 13 Tavistock Place, London, on 1st July 2017. The articles were: 'Edward Heron-Allen and Gilbert James revisited' by Bob Forrest; 'Gertrude Atherton and Edward Heron-Allen. The Belford Clarke & Co., Affair' by John P. Mahoney and Barbara P. Mahoney; 'The 6th International Heron-Allen Symposium, La Rochelle, 22-29 September 2016', by Tim Collins; 'Micropalaeontological Supplement to Symposium Report by Ted Collins', by Alan Lord; and 'Memories of Western Ireland, circa 1911' by John Whittaker.
July
The Society's 17th Annual Symposium will be held at Flat 13, 13 Tavistock Place on Saturday 1 July at 11.00, followed by a late lunch at the North Sea Fish Restaurant, 7-8 Leigh Street. Among the talks will be David Thompson, 'Edward Heron-Allen - A Genealogy'; John P. Mahoney, Barbara P. Mahoney and Antonella T. Maraini, 'The Mrs. E.C. Buckley, Sir Coleridge Kennard Affair and Solicitor Edward Heron-Allen'; Timothy J. McCann, 'Edward Heron-Allen and Captain A.W.F. Fuller'; and Roger Cline, 'Collecting Heron-Allen'. The talks will be followed by the Annual General Meeting. To book please e-mail our Honorary Secretary, Juliet Field at jools.field@btinternet.com. Those wishing to join us for lunch should inform the honorary secretary by 17 June.
September
Members of the Society travelled to Pisa and Florence for the 7th. International Symposium, 20-29 September, following in the footsteps of Edward Heron-Allen's visits in 1910 and 1923.
October
Christopher Blayre [Edward Heron-Allen] Lo Zaffiro Viola, translated and edited by Gianluca Salvatori, with an introduction, a short biography and a bibliography of Heron-Allen was published by Mattioli, 1885 in Florence.
December
The Society's Newsletter no.31 (Autumn 2017) was published. Articles include: 'The annual Heron-Allen Lecture at Lady Margaret Hall' by David and Juliet Field; 'The Seventeenth Annual Heron-Allen Symposium at 13 Tavistock Place, London' by Peter Horton; 'The Enigma of the Thomas Cooper Gotch Portraits of the Heron-Allen Children: Itha and Armorel' by John P. Mahoney and Barbara P. Mahoney; 'Gemini or Janus: Considering the Hoodoo Emerald' by Chuck Backus; and 'The Mystery of an Illuminated Painted Memorial Text on the Life of Armorel Daphne Heron-Allen' by John P. Mahoney and Barbara P. Mahoney. Accompanying the Newsletter are two stunning full-page colour portraits of Itha and Armorel Heron-Allen by Thomas Cooper Gotch.