Heron-Allen's Cursed Amethyst on show at The Vault
28 November 2007
Natural History Museum
London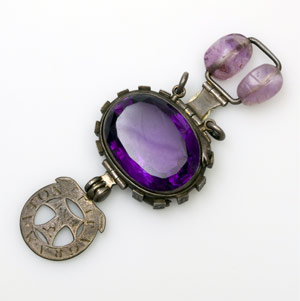 The Purple Sapphire
Murder, suicide, bankruptcy and ruin have all been associated with Heron-Allen's amethyst. Known as the Purple Sapphire, Heron-Allen's amethyst was "cursed and stained with blood" according to Edward Heron-Allen who, himself worked at Natural History Museum as a researcher in the early 20th Century. The stone had been looted during the Indian Mutiny in 1855 and brought to England by an officer of the Bengal Cavalry who mysteriously lost his health and his money. After receiving the amethyst, the officer's son suffered such ill fortune that he gave the stone to a friend, who then committed suicide, returning the stone back to the officer's son in his will.
Heron-Allen received the amethyst from the Cavalryman's son in 1890 and he too began to experience misfortune and so he had it bound round by a "double-headed snake" that had been a finger ring of an astrologer and two amethyst scarabs of Queen Hatasu of Thebes. Heron-Allen even threw the amethyst in the Regents Canal after he suffered disaster, only for it to be returned to him three months later by a Wardour Street dealer who bought it from a dredger.
Finally Heron-Allen packed the stone in seven boxes and gave it to his bank with the instructions that it should not be opened again until thirty three years after his death. The stone was donated to the collections of the Natural History Museum by Heron-Allen's daughter, together with a letter he wrote to accompany the stone warning anyone against handling it:
"This stone is trebly accursed and is stained with the blood, and the dishonour of everyone who has ever owned it...I am now packing it in seven boxes and depositing it at my bankers, with directions that it is not to see the light again until I have been dead thirty three years. Whoever shall then open it, shall first read this warning, and then do as he pleases with the jewel. My advice to him or her is to cast it into the sea".
Articles
The Purple Sapphire at "The Vault", Natural History Museum
Rebecca Morelle, Dazzling delights go on display, BBC online (28 November 2007)
Steve Farrar, Out of the cupboard and calling to you: the cursed Delhi Purple Sapphire, Sunday Times Online (25 November 2007)
Deidre Woollard, Cursed Stone Goes On Display in London, The Luxist (27 November 2007)
'Cursed' Delhi Purple Sapphire to go on display, DNA India (26 November 2007)
Cursed Indian gem on display in UK, IBN Live (26 November 2007)